Under The Harvest Moon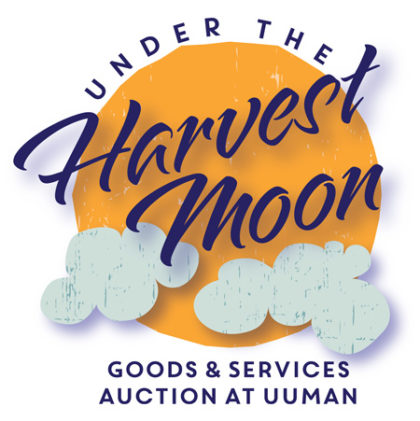 Each year UUMAN holds a gala, fun-filled, goods and services auction to raise money, build community and have fun! This event has been described by UUMANites as the most exciting night of their entire year!!  The next auction will take place on November 9, 2019. Doors open at 6:00pm. Child care will be available.
Tickets go on sale each year in early October, so be looking for the ticket table in Fellowship Hall each Sunday after service.
Your ticket is your gateway to delicious food, libations and friendly bidding for your favorite things. You'll be able to "just sign up" for certain items and participate in the silent and live auction for others.
Items available fall into the following categories:
Dining, Wine and Other Edibles
Entertainment
Self-Improvement / Self Care / Educational / Spiritual
Travel and Getaways
Arts and Crafts (all created with lots of love)
Neaten Up & Timesavers Services
Care for Kids and Pets
Here is the 2019 Catalog.
Come, socialize and have fun!!  You might even find something you have to have for yourself or the perfect Holiday gift!
Thanks to all who've contributed in so many ways to make this event a wonderful success and benefit to UUMAN each year! If you are interested in getting involved with this event please contact HarvestMoon@uuman.org. If you are interested in donating an item (good or service) to the auction please go to the Harvest Moon Donations page.